SAN FRANCISCO (LNS)—The strike at San Francisco State has dragged on for two long months, with virtually every aspect of confrontation sooner or later included. [See "Strike at S.F. State," FE #71, January 23-February 5, 1969.]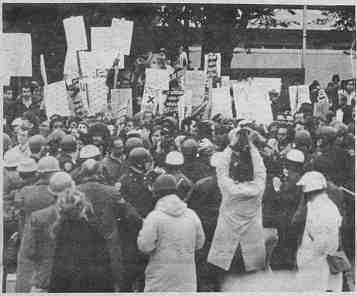 Mass arrest, the one previously missing ingredient, was finally added on Thursday, Jan. 23, when over 400 people were busted while trying to hold an "illegal" on-campus rally.
SAN FRANCISCO (LNS)—Pvt. Louis Osczepinski, one of 27 soldiers being tried for mutiny at the Presidio Army Base in San Francisco, attempted to commit suicide on Feb. 14. He slashed his arms four times.
Osczepinski, along with Pvt. Lawrence Reidel, was scheduled to hear the verdict in his case some time during the week of Feb. 17 through 24. On Feb. 13, Pvt. Henry Sood, the first of the Presidio 27 to be tried, was convicted and sentenced to 15 years hard labor.