During the last year the Fifth Estate has published numerous essays by John Zerzan (and others co-authored with Paula Zerzan) on the decomposition of daily life, the revolt against work, and the police role of unions. The following essay challenges many of the author(s)' contentions about the importance of sabotage, absenteeism, and other daily acts committed by a frustrated and distraught working class. The article originally appeared as "'Refus du Travail' ou lutte pour le Droit à la Paresse" in Spartacus, juillet-août 1976 (5, rue Ste-Croix de-la-Bretonnerie, Paris IV).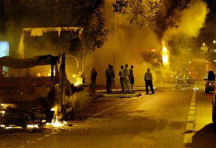 "Unlike the French uprising of May-June 1968, the youth rebellion of November 2005 had no demands and no critique; just the fires."
--Le Monde Libertaire
Early in November 2005, three young men were trying to escape from being questioned by police and took refuge inside an electric transformer in Clichy-sous-Bois, a poor working class suburb outside Paris. Two of them were electrocuted and the third was severely burned.