The latest escalation of the fighting in Iraq is a clear sign that the people of Iraq reject their "liberation." The United States, led by the Bush regime, can't decide why it invaded Iraq and refuses to pull out of Iraq. The Bush regime is dedicated to the continuation of the American program of empire building. A withdrawal from Iraq would be seen as a setback of this ongoing effort to build a Thousand Year Reich in which the world would be run by America. The quagmire in Iraq has not deterred the United States as it continues to intervene in the internal affairs of other countries (Haiti) and actively threatens other countries (Syria, Iran, Cuba, Venezuela and on and on).
Chuck 0
Post-Katrina Anarchy Works; Government Fails
After the disaster that struck the Gulf Coast in the wake of Hurricane Katrina, during the total failure of the government response, the first health services available in New Orleans were set up by anarchists and local residents.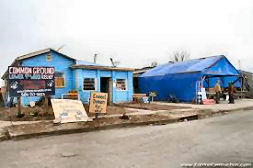 The hub of this mutual aid effort was the Common Ground clinic, operated from a mosque in the Algiers neighborhood by former Black Panther, Malik Rahim, local residents, out-of-town anarchists and other radical activists. While local, state and federal governments were in a state of chaos and incompetence, neighbors organized their own spontaneous mutual aid, helping to rescue people from flooded homes and procuring food and supplies. Even some bars in the French Quarter established themselves as DIY relief centers.