a review of

Antifa: The Anti-Fascist Handbook by Mark Bray. Melville House Books 2017
It's hard to shake the feeling that we haven't all wandered into a particularly demented time warp in the last year or so since that Nazi-sympathizer, Donald Trump, bumbled and ranted his way into the White House.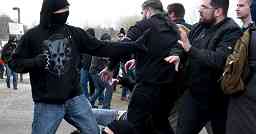 For those curious whether Antifa tactics can actually deliver the goods when it comes to disrupting fascist organizing efforts, the activity surrounding white supremacist Richard Spencer's early March visit to Michigan should serve as a resounding, "Yes!" The alt-right leader, who heads the racist National Policy Institute and wants to turn the U.S. into an exclusively white ethno-state, canceled the remaining dates of a college campus speaking tour after being confronted by a militant antifascist presence during a stop at Michigan State University in East Lansing.