Mario Castillo
Dmitri Prieto
Isbel Díaz
"We Want to Revive Anarchism in Cuba" The Cuban movement erased by Castro is coming back & they need our solidarity
FE note: Comrades working to revive anarchism in Cuba need our immediate financial support. For U.S. dollar donations, visit the Cuban Anarchist Solidarity Fund. For Euro-zone contributions, click here.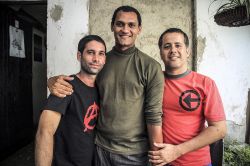 Changes in the Cuban state's regulation of private enterprise and in the relationship between Cuba and the U.S. over the last decade are opening up new possibilities and dangers for Cuban society.