In 1969 [when Fredy and Lorraine moved to Detroit], the "underground" newspaper the Fifth Estate addressed itself to the Detroit radical and counter-culture community. Fredy sought out the staff, and except for a brief period (when there was an attempt to make the paper a commercial success), was an ardent but critical supporter of the paper, extending his friendship to the numerous remarkable collaborators. In addition to his criticisms, Fredy's typing skills were welcomed. Over the years, Fredy took part in the paper's production. At his death in 1985, only one staff person, Marilyn Werbe, had more typesetting seniority than Fredy.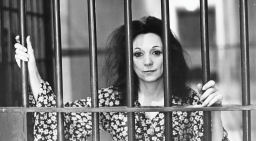 Conversations with Judith Malina rarely ended without her advocating "the beautiful nonviolent anarchist revolution." Strategy to realize it always followed. Her efforts to achieve this ideal resulted in her arrest for civil disobedience in twelve different countries.
She and her husband Julian Beck established The Living Theatre in New York City in 1947 when they were in their 20s. Cultural foundations offering support were non-existent. Despite the constant shortage of physical space to rehearse and perform, they produced plays by radical playwrights like William Carlos Williams, Antonin Artaud, Paul Goodman and Tennessee Williams.