Discussed in this article

The Poetry of Postwar Japan, edited by Kijima Hajime. University of Iowa Press, 1975.

Modern Japanese Poetry, translated by James Kirkup and edited by A.R. Davis. University of Queensland Press, 1978.
War poetry is significantly characteristic of this century. Because the poet's voice is inherently a human voice, poets throughout the world have felt a weighted responsibility to react to that which threatens to destroy humankind and to protest against the inhuman force of modern warfare—from the ruthless use of asphyxiating gas during World War I to the massive unleashing of bombs during World War II.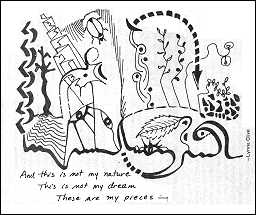 A stone's throw away—
here, behind the pane, housed,
relatively safe.
But you, you draw me out,
outside my house, outside myself,
you, homeless one,
urban nomad.
I think some sleepless nights
to join you,
to close this box and break
my pane, to move, walk
away, walk about.
.
But I romanticize you with daydreams