Allan Antliff
Mark Antliff
Sexual Anarchy The Monument to Oscar Wilde
The Pere Lachaise Cemetery in Paris contains many tombs honoring artists and rebels, but the most striking of them all is the monument to the gay English playwright and anarchist Oscar Wilde. [1]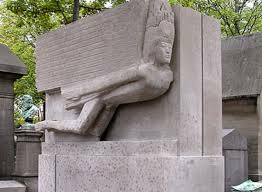 The story of Wilde's trial for homosexuality and subsequent imprisonment in England is well-known. After his release from jail in 1897, he fled to the continent and settled in Paris. He died there in exile in 1900 and was quietly buried in Pere Lachaise.