Phil Bailey
Carl Hughes
Applied Anarchy Organizing & Movement-Building for Liberation
Moving from ideas to action has always been central to the anarchist project. Our work has long been inspired by visions of a transformed world, one in which prevailing institutions and relationships are overturned to create more liberatory ways of living and relating to each other.
Yet powerful forces stand in our way. Not only the entrenched ruling order with its vast resources including its repressive apparatus and cultural spectacle, but perhaps even more of a bulwark against change, a deeply ingrained mass culture of submission to authority which generates a fear of living liberated lives.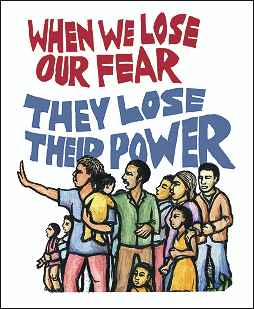 The art of Ricardo Levins Morales is rooted in the soil of the struggles that shape our lives. Inspiring, empowering and validating, his images both document and embody collective visions of unity in the face of power.
As a result of working with the Northland Poster Collective in South Minneapolis for over thirty years, Levins Morales has developed core insights about how art can be a powerful part of strategy in movements.