Title: Dancing in Protest on the Grave of Capitalism
Notes: Fifth Estate #387, Summer, 2012
SKU: FE-0387-00000727-0047-00000892
Fifth Estate Collective
Dancing in Protest on the Grave of Capitalism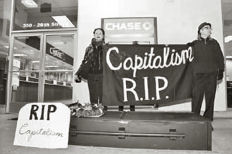 A few hundred people carrying a coffin and accompanied by a brass band marched through Oakland, Calif. on Leap Day, Feb. 29, at a funeral for capitalism. It was a welcome break from protesting-as-usual as well as a demonstration of how the Occupy scene is moving beyond single issue politics and rejecting the whole rotten system. The procession was short on mourning and long on celebration.
It stopped to scatter ashes at Chase Bank and Cigna Healthcare corporation, the fifth largest healthcare corporation in the US. The funeral moved to Lake Merrit Park where capitalism was eulogized with a malology. Then, the marchers smashed capitalism's coffin to bits and danced wildly on its grave.
Thanks to Slingshot for this.