Title: Harriet and Harry T. Moore
Notes: Fifth Estate #411, Spring, 2022
SKU: FE-0411-00023922-0047-00024605
Fifth Estate Collective
Harriet and Harry T. Moore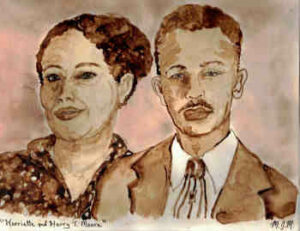 Marius Mason was struck by the story of these early civil rights activists and their assassination by the Ku Klux Klan. He painted this portrait ("Harriet and Harry T Moore", 2022) using prison coffee as the main medium.
The Moores incurred the wrath of the Klan for their advocacy of voting rights in segregated Florida in the 1940s. They were both killed on Christmas night 1951 by a bomb set at their home in Mims, Florida. This followed their both being fired from teaching because of their activism.
The murder case was investigated, including by the FBI in 1951–1952, but no one was ever prosecuted even though all evidence pointed to the Klan.