Title: Windows smashed
Date: 1966
Notes: Fifth Estate #7, April 1966
SKU: FE-0007-00005516-0006-00005541
Fifth Estate Collective
Windows smashed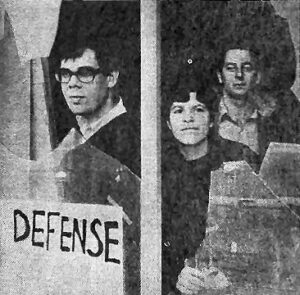 The Detroit Committee to End the War in Vietnam (1101 West Warren) is not the most popular organization in town. It has had all but two of its nine windows stoned, shot through or broken into.
In early march, late in the evening, at least three bricks were tossed into the office via the glass windows.
The bricks were of the heavy variety weighing nearly a pound and wrapped in dirty brown wrapping paper.
There were two messages on the bricks. They read:
DEATH TO RED TRAITORS and THIS IS WAR, YOU RED BASTARDS.
The police are still investigating...