a review of
Islands of Resistance: Pirate Radio in Canada by Andrea Langlois, Ron Sakolsky and Marian van der Zon. New Star Books, 2010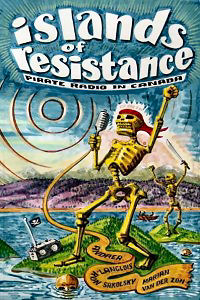 After reading Islands of Resistance: Pirate Radio in Canada, all I wanted to do was become a pirate. Not the kind that steals in a capitalist bent to become rich at the expense of others. I want to appropriate what is already mine: the public airways and broadcast what corporate media despise most--defiant free-form radio that encourages audio creativity and promotes social justice.
A review of The Listener: Memory, Lies, Art, Power, A Graphic Novel by David Lester, Arbeiter Ring Publishing, 2011, 310 pp, $19.95; distributed by AK Press, akpress.org.
All works of art, regardless of their form, offer a message to their audience. Some may be conceived as more deliberate acts of communication, while others allow room for nuanced interpretation. As a political tool, art can even inspire an audience to risk their own lives or take the lives of others in the name of social change.