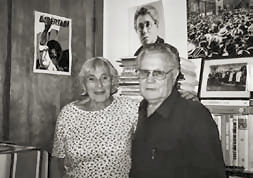 Lifelong anarchist Audrey Goodfriend died on January 19 at 92.
Over her lifetime, Audrey engaged with generations of anarchists, and in many ways served as a bridge between them. The fact that as a teenager in the late 1930s, Audrey hitch-hiked to Toronto to meet Emma Goldman, gave younger anarchists who met her a direct connection with anarchist history.
As Bill Weinberg points out (see page 14, this issue), much of the left media shamefully supports odious forces simply because they oppose the U.S. A contemporary example of a significant skewing the facts can be seen in its overwhelmingly biased coverage of the 2016 impeachment of Brazil's president, Dilma Rouseff.