Ian Erik Smith
Domesticated Animals & Us How the early North American colonists used animals to subdue the Native people
a review of
Creatures of Empire: How Domestic Animals Transformed Early America by Virginia Delohn Anderson. Oxford University Press, 2006, 336 pp., $19.95
Civilization is a lie. Its images mask violence and its logic is that of genocide. Even the most banal scene of grazing cattle, while seemingly serene, portrays a weapon of war.
Ian Erik Smith
Cybernetic Revolutionaries Salvador Allende planned to run Chile's state socialism from this room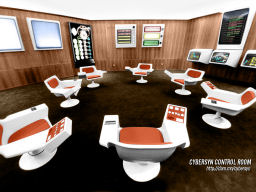 a review of
Cybernetic Revolutionaries: Technology and Politics in Allende's Chile by Eden Medina. MIT Press, 2014, 344 pp., $20
Eden Medina's Cybernetic Revolutionaries provides an account which is sympathetic to Chile's Project Cybersyn. She uncovers and details the largely forgotten and extraordinarily fascinating history of how information and communication technology was seized upon as a way to realize President Salvador Allende's socialist aspirations.