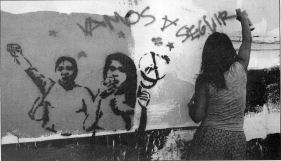 You pick up the newspaper and it tells you that the governor has just inaugurated a new school in a far-off rural town. You turn on the television and you see a "reality" show where six men compete for the attention of one woman amidst unfathomable luxury on the beaches of Ibiza.
And then you walk out into the street and watch the walls as you walk and the walls tell you that the police assassinate, that 22 murders of activists in your town remain in impunity, and that people keep organizing, people rise up, people fight hack.
John Gibler
Murder in Oaxaca The killers of Indymedia's Brad Will are free while the Mexican government is framing an innocent man for the 2006 crime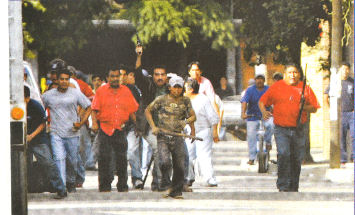 MEXICO CITY-Brad Will filmed his own murder. Holding a professional, high-definition digital camera neck-high in his two hands, he faced down Juarez Avenue, the camera rolling.
He stood amidst the protesters from the Oaxaca Peoples' Popular Assembly, or APPO, as they attempted, with rocks and bottles, to repel the armed attack of police and local officials trying to dislodge the thousands of people assembled in a months-long occupation of Oaxaca City in 2006.