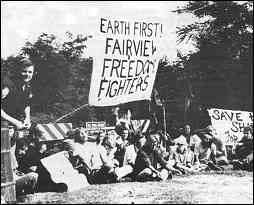 Beginning on June 20th, a determined group of Earth First!ers (EF!), Industrial Workers of the World (IWW), and anarchists, maintained a blockade at the site of the Fairview timber sale area in southern Illinois' Shawnee National Forest.
Orin Langelle
Arizona EF! Trial Conspiracy or Entrapment?
The government of the United States believes in the concept of freedom so much it infiltrates movements that practice the concept and tries to set them up to commit illegal acts.
Dave Foreman, co-founder of Earth First!, and four others are being prosecuted for conspiracy, and although the government contends the "Arizona Five" conspired to sabotage the nuclear industry, it is apparent the reason behind the arrests and prosecution is to discredit the radical environmental movement and to jail Foreman because he wrote a book.